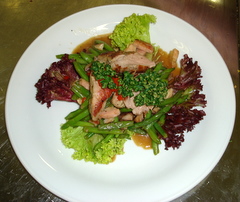 V týdnu mi přišla pozvánka na Kulinářskou cestu Manamana v Manamana (http://www.manamana.cz/), která je v Hradci díky známým majitelům mou velmi oblíbenou restaurací. Bohužel, díky poloze (přiléhá obchodnímu centru Furutum) trochu z ruky. I tak se tam ale čas od času dostanu.
Z pozvánky cituji:
"Kulinářská cesta Manamana", má za cíl, milovníkům jídla sdÄ›lit, že v restauraci Manamana mohou dostat jídla ze sezónních produktů. V nabídce najdou nové sezonní menu. (zelenina kupovaná s maximální snahou od regionálních dodavatelů. Co lze sehnat v ÄŒesku, samozÅ™ejmÄ› z ÄŒeska). Vaří se zdravÄ›, tak aby si jídlo mohlo dát kdykoli i malé dítÄ›. VÅ¡e je čerstvé, žádné zamražování.
Návštěvnicí akce budou mít možnost ochutnat to nejlepší z našich novinek. Špízy, tzatziki, knedlíčky, bramboráčky a další.
Kulinářská cesta je sestavena formou čtyř chodů:
polévka: vývar z hovězí oháňky
obložený talíř: smÄ›s malých porciček tÄ›ch nejlepších ManaMana novinek (malé knedlíčky, bramboráčky,…)
hlavní jídlo: masové Å¡pízy (hovÄ›zí, vepÅ™ové, kuÅ™ecí,…) se zeleninovou přílohou z grilu (cukety, papriky, cibule) a k tomu Å™ecké tzatziky (jogurt s nastrouhanou okurkou, česnekem, pepÅ™em a solí) podávané s kÅ™upavou česnekovou bagetou.
desert: domácí borůvkový muffin s kávou
(Akce se koná ve čtvrtek: 17.6. 2010 od 19 hod. Cena za čtyři chody: 190kč, Rezervace: 495 710 489, info@manamana.cz)
Mimo Kulinářské cesty se mi jako celkem zajímavý a lákavý počin zdají "Specielní dny". Definované jsou následovnÄ› "Specielní dny jsou specielní proto, že nÄ›která jídla u nás dostanete jen v daný den. Bude to lehké na zapamatování"
Menu je následující:
Pondělky: Domácí pizza (podle domácího receptu)
Úterky: Sněz kolik chceš (kuřecí řízečky, opečené brambory, salátek)
Středy: Řízky přes celý talíř (vepřové, telecí, kuřecí, plněné,..)
ÄŒtvrtky: Vinný den – vynikající jihomoravská vína Révy Rakvice (s něčím slaným k tomu)
Pátky: Křápance – výborné bramboráky na různé způsoby
Někdy zaskočím, především na úterky :-). Potom pátky a pondělky.