Tento týden se mi kolem okna prohánÄ›li nÄ›jací vÄ›tší práci, vÄ›tve stromů se klepaly, vítr nefoukal….
Všimla jsem si, že je ve větvích javoru, u mého okna, nějaká hromádka klacků.
Dnes, jelikož je sobota, dívám se z okna více. Hromádka klacků silně zhoustla.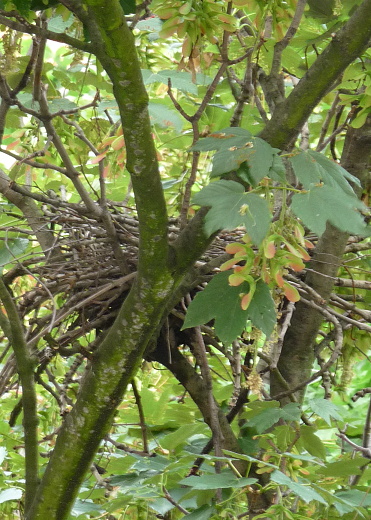 Je tu rušno, makaj od rána, bez přestávky, straka a straková, nosej klacky, rovnaj to v hnízdě, aby to nikde netlačilo, jen jsou překvapený, že jsme doma. Otevřené okno a zvuky z pokoje je silně rušily, stejně tak focení, tak už jsem jim dala pokoj. Jsou hodně sehraný, výborný stavební tým.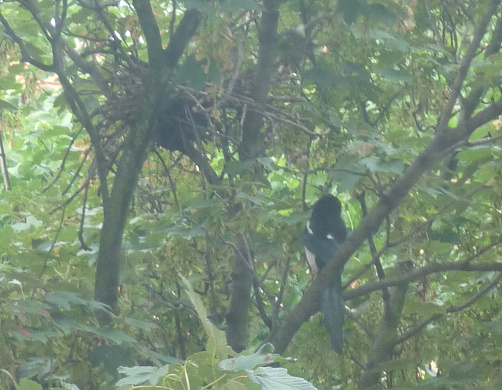 O strakách se říká, že kradou, tak to mám pěkný sousedy, ale přece jen, na wiki je i něco jiného o strakách:
Latinský název pro straku obecnou je pica pica pica. Straky staví pomÄ›rnÄ› bytelné "nepořádné" hnízdo vÄ›tÅ¡inou vysoko v korunách stromů i v klidných ulicích mÄ›st. Základním materiálem jsou suché vÄ›tve pokryté hlínou a drnem. Hnízdní kotlinku vystýlá kořínky, stébly a chlupy. Hnízdo je shora kryto jakousi stříškou z vÄ›tviček. Tato stříška má chránit hlavnÄ› pÅ™ed případnými útočníky. První vajíčka se v hnízdech mohou objevovat již v průbÄ›hu bÅ™ezna. Ve snůšce bývá 5-8 vajec, výjimečnÄ› i více. Vajíčka jsou olivovÄ› skvrnitá, mnohdy i s tmavší čepičkou. Na vejcích sedí 17-18 dní vÄ›tÅ¡inou jen samice a pak jsou mláďata jeÅ¡tÄ› dalších 22-27 dní krmena obÄ›ma rodiči na hnízdÄ›. Po výletu z hnízda zůstávají mladí s rodiči až do příštího jara.
Pica pica je krkavcovitý pěvec velikosti hrdličky, s výrazným černobílým zbarvením a dlouhým stupňovitým ocasem. Má poměrně krátká a široká křídla a její let je ve srovnání s jinými krkavcovitými těžkopádný.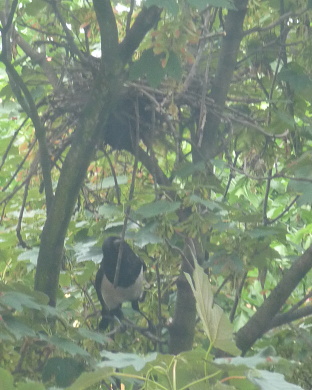 Kvalita fotek je nižší, otevřené okno se jim nelíbí.