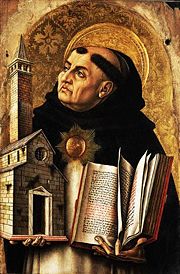 Tomáš Akvinský, latinsky Thomas Aquinas, žil ve 13. století. Byl katolický filosof a teolog scholastické tradice. Scholastika se snažila o rozumové podepření církevních dogmat. Jeho práce znamenala vrchol scholastiky, katolická církev ho považuje za svého největšího teologa a jednoho ze třiceti tří učitelů církve. Za svatého byl prohlášen roku 1323.
Tomáš pocházel ze starého italského Å¡lechtického rodu, v sedmnácti letech se stal členem dominikánského řádu. Studia absolvoval jednak v Neapoli a KolínÄ› nad Rýnem, kde byl v kontaktu s významným dominikánským teologem Albertem Velikým, a jednak na univerzitÄ› v Paříži, kde pak vyučoval teologii. Tomáš pokračoval v práci započaté Albertem Velikým – na spojení Aristotelovy filozofie a biblického zjevení. Svá hlavní díla sepsal v letech 1260 – 1273. Jsou to zejména knihy: Suma theologická, Suma proti pohanům, Otázky diskutované a Proti Å™eckým bludům.
Tomáš patří k největším teologům a filozofům křesťanského Západu. Vymezil hranice mezi vírou a rozumem. Pravda je podle něj jen jedna, ale vedou k ní dvě cesty, cesta rozumu a cesta víry. Stejně tak je možné obhájit rozumem existenci Boha. Akvinský říká, že Bůh je nejdokonalejším bytím a že ostatní skutečnosti jsou stvořené. Rozum a víra jsou podle něj v harmonii – obě mají počátek v Bohu. K čtyřem antickým ctnostem (uměřenost, statečnost, rozum a spravedlnost) přidal tři křesťanské (víra, láska, naděje).
Jak vypadal svět ve středověku? Západní společenství národů se zakládalo na jednotném základním postoji v náboženství a názoru na svět. Existovala jen jedna, pro všechny závazná pravda.

"Někteří lidé jsou přesvědčení, že teze, že Bůh existuje, nepotřebuje důkazu. "Boží existuje" je prý samozřejmá pravda, neboť každý, kdo ví co slovo "Bůh" znamená, musí nahlédnou, že Bůh existuje. Filosofové se vskutku pokoušeli dokázat boží existenci z této definice, a to už od sv. Anselma, který žil asi stol let před Tomášem. Tomáš takové pokusy odmítal. Soudil, že přesvědčení, že boží existence je samozřejmá, pochází z toho, že lidé jsou zvyklí slyšet od nejrannějšího dětství mluvit o Bohu. Není-li boží existence samozřejmá, vyžaduje důkaz a Tomáš vskutku v dalším výkladu formuluje dva dlouhé a nesnadné důkazy založené na učení Aristotelovy Fyziky."
Lidský rozum není schopen pochopit božskou podstatu. My ale víme, že Bůh je, podle 5 důkazů.
pohyb – prvotní pohyb
příčina – vše má příčinu
nutnost a nahodilost – vše má účel
nejvyšší dokonalost – musí být
někdo musí vše řídit

Nevíme, ale jaký Bůh je. Jeho poznání nám zprostředkuje víra. Láska v Boha, podle něj, převyšuje víru a poznání. Ke spáse lze dojít, když vím v co věřit, co žádat… Člověk je jednotou duše a těla.

V současné dobÄ› funguje Společnost Tomáše Akvinského, která je kulturní asociací usilující o povzbuzení plodného dialogu mezi myÅ¡lením Tomáše Akvinského a současnou kulturou. ÄŒeská Společnost Tomáše Akvinského je českou sekcí Mezinárodní společnosti Tomáše Akvinského – S.I.T.A. se sídlem v ŘímÄ› s místními pobočkami po celém svÄ›tÄ›.