Tak mi na začátku března spadla do mail boxu zpráva, která začínala následovně:
Vážený Kliente,

Gratulujeme vám k výhře v druhém kole mKlubu!

Pro svůj termohrnek si můžete přijít na jakékoliv Finanční centrum mBank, případně mKiosek
.
.
.
No, jo, další spam, či nepříjemná marketingová akce pomyslel jsem si a znění zprávy ignoroval. Včera jsem měl ale ve městě chvíli času, nacházel se u pobočky mBank a na zprávu si vzpomněl. Pokud se půjdu na výhru zeptat, nic za to nedám, tak jsem se rozhodl to zkusit. Když mi začnou něco nutit, mohu kdykoliv odmítnou.
Po vstupu do mBank se mě během chvíle ujala mladá žena, s tím co si budu přát. Říkám, že bych zde měl mít k vyzvednutí hrnek. Následovala otázka na unikátní kód. Požádal jsem o moment, že ho dohledám. Prý to nebude třeba, když řeknu své jméno. Řekl jsem jméno, potvrdil číslem telefonu a hrnek byl na světě. Podepsal jsem převzetí, a bylo to. Vše proběhlo naprosto korektně a zvýšilo kladné osobní hodnocení této banky.
Jak můžete vidět na fotografii hrnek je parádní. (Pro hurriho a borise dodávám: kuci a ZDARMA)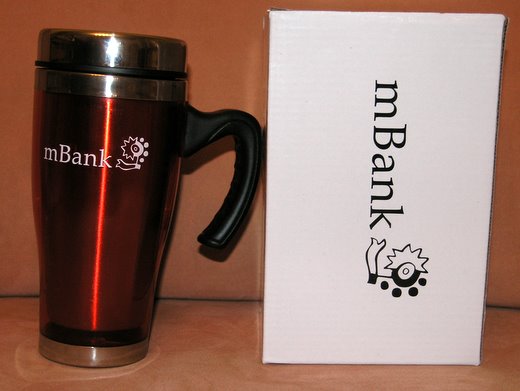 Účet u mBank mám někdy od léta. Za tu dobu jsem s ním neměl sebemenší problém a za služby nezaplatil ani korunu. Jen tak dál mBank.
Odkazy: